Wholesale Onion Sets
An onion wholesale supplier, Onion Boy Inc offers a variety of onions with custom packaging options.
Contact us for a quote for wholesale onion sets customized to your specifications. If you also have any additional questions, please fill out the form to receive a quote or contact:
Tim Hanline
o: 419-342-2202
c: 419-295-5536
info@onionboyinc.com
Below, you can view all of the onion sets that Onion Boy has to offer. We will also re-pack and design packing material for your onions. You can leave your information and select the type of onions you would like. Once you select how many you would like, we will receive your quote and be in contact with you as soon as possible. If you are looking for more information about the different types of onions that we offer, you can visit our contact page here and leave us your contact information. One of our members of our team will reach out to you and respond to your email.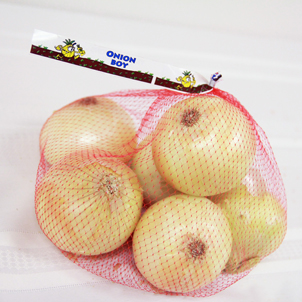 3lb Large/Medium Yellow Onion
Mesh bag with a strip label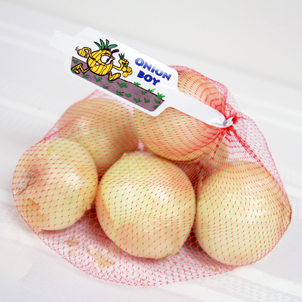 3lb Large/Medium Yellow Onion
Mesh bag with a wineglass label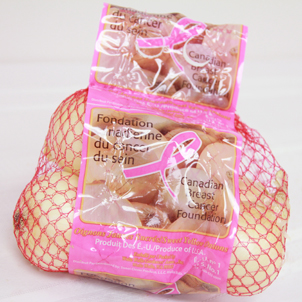 Vertical Mesh Bag with Private Custom Film
Mesh bag with custom film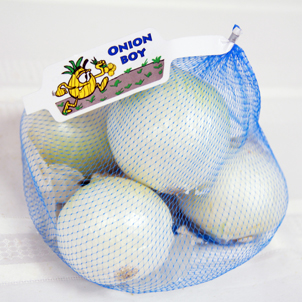 2lb Medium White Onion
Mesh bag with a custom wine glass Onion Boy label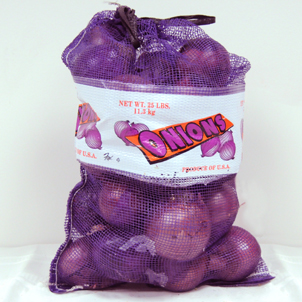 25lb Jumbo Red Onion
Mesh Baler bag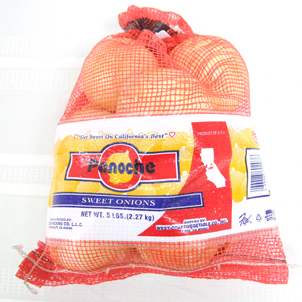 5lb Panoche Sweet Onion
Mesh Baler bag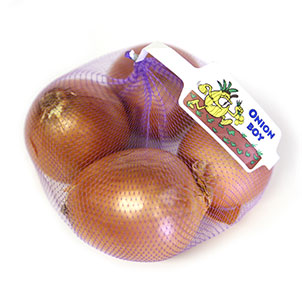 2 lb Medium Sweet Onion
Mesh bag with custom wine glass label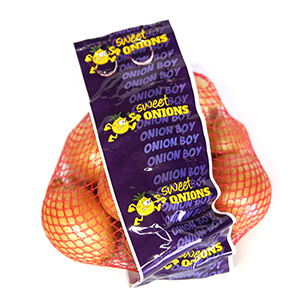 2 lb medium sweet onion
in a custom vert bag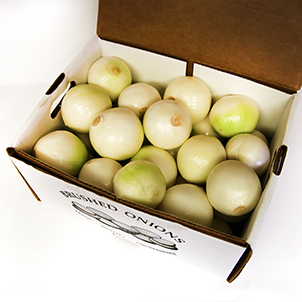 20 lb Brushed white onions in cartons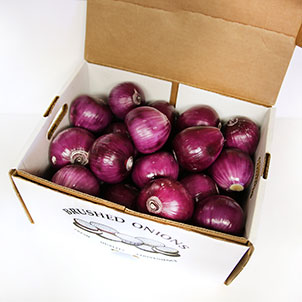 20 lb Brushed red onions in cartons
More information about onions
Yellow Onions:
We offer a variety of sizes of yellow onions and with different packing options (not all are shown here). Yellow onions contain a large amount of vitamins and dietary fiber. You can get our medium yellow onions, weighing around 8 ounces each, in a mesh bag with a strip label, wineglass label, or in a mesh bag with private custom film. Our detailed quote form lists the different sizes and packing details available for yellow onions.
White Onions:
White onions are available from Onion Boy in a jumbo and medium sizes and hold much more moisture than a typical yellow onion.
Red Onions:
We offer jumbo and medium red onions, both packaged in bags and in cartons. Red onions are grown from the seed of a bulb onion with the coloring on the exterior protecting the inside of the onion.
Sweet Onions:
Onion Boy offers sweet onions in both jumbo and medium sizes, in a custom vert bag, custom mesh bag or mesh baler bag. Different label options are available on these bags as well.
Request your quote from Onion Boy and select the specific type and quantity of onions that fit your needs.